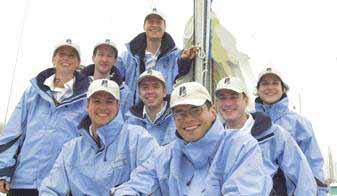 A corporate sailing day on one of our luxury sailing yachts is guaranteed to give your most valued customers an experience they will enjoy and remember forever. Your company's choice of activity or venue for Corporate Events or Hospitality Days reflects your business profile. Yachting is an excellent Corporate Hospitality medium. It is a high profile, interactive, aspirational, healthy outdoor activity -
and above all it's great fun!
Once on board, you can sit back and relax on what will become your own private yacht with the skipper to tend to all your needs. Take in the sights of the beautiful Cornish coastline as you sail along. And for those guests who wish to take a more active role, the skipper is more than willing to (quite literally!) show you the ropes and involve you as much as you wish in sailing the boat.
What does a Corporate Sailing event offer?
A perfect way to invigorate and reward your guests, whilst at the same time providing you with a captive audience
The opportunity to share a new experience with your guests, memories of which will last long after they leave the yacht
The chance to sail on a prestigious Nautor Swan yacht
An exhilarating day that can be enjoyed by those with no previous experience of sailing. The events do not require any particular level of fitness and can be enjoyed by all ages, male and female

Corporate Sailing Days - Price
Corporate Sailing Days during the week - Monday to Friday for yacht and skipper - £650
i.e. £93 per person based on 7 guests
Corporate Sailing Days over a weekend - Saturday or Sunday for yacht and skipper - £850
i.e. £121 per person based on 7 guests
Extra's
Food and beverages.
We can offer simple freshly made baguettes and pasties to more sophisticated food such as lobsters, meat buffets and salads. Cream teas and strawberries for the afternoon's sail can also be arranged.
Please contact us for our selection of menu's.

Please note: We are NOT vat Registered